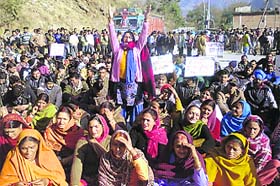 Protesting oustees of the 800-MW Kol Dam project today threatened go on an indefinite fast till their demands were met. They refused to abide by the NTPC deadline of February 22 for vacating land in the submergence zone.
Oustees from Mandi, Shimla and Solan districts joined the protesters from Bilaspur district today. They said they would not leave until Chief Minister Virbhadra Singh accepted their demands here in the presence of the NTPC management.
They pointed out that the memorandum of understanding on the project was signed in 2001 Prem Kumar Dhumal was the Chief Minister and Atal Behari Vajpayee the Prime Minister.
The government signed the memorandum of understanding without caring for proper rehabilitation. The NTPC has not developed proper plots and we cannot build houses in the colonies,
The oustees warned local politicians against using them as an excuse to grease their palms. They said Rs 15,000 as compensation was not enough even to buy sheep.
Oustees from the sulphur bath springs and the pilgrimage centre at Tattapani urged the government to let vendors operate this tourist season as filling of the dam would not take place before November.
Karsog Subdivisional Magistrate Sudesh Mokhta said the oustees from Tattapani had moved the High Court on the issue of their displacement from the submergence zone and directions from the court were awaited.
Work at the site remained suspended for the ninth day today as NTPC officials did not try to pacify the oustees. Project General Manager AK Nanda and Assistant General Manager (Human Resources) Sanjiv Puri refused to comment.